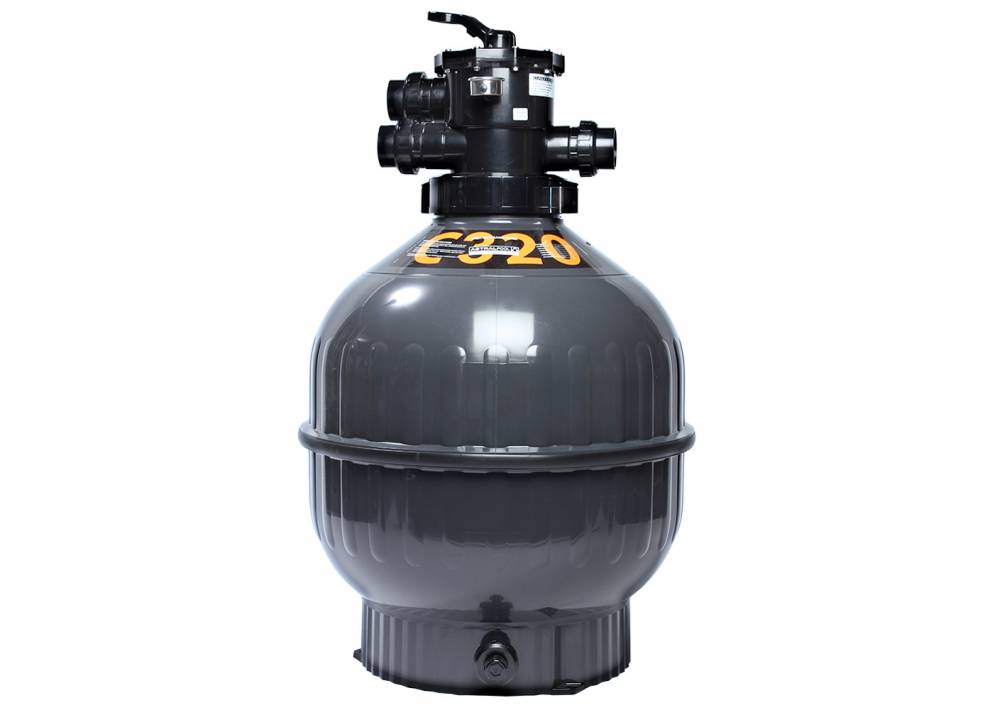 Cantabric Sand Filter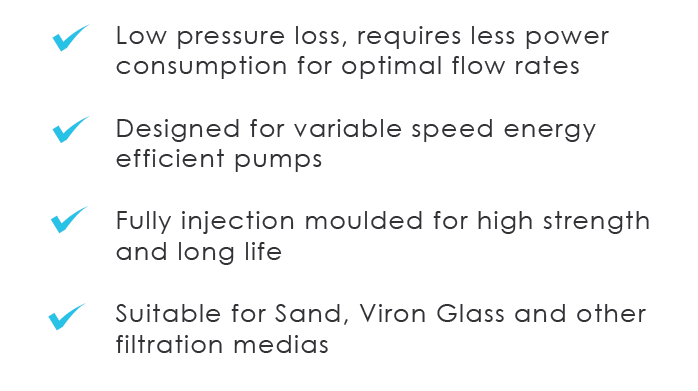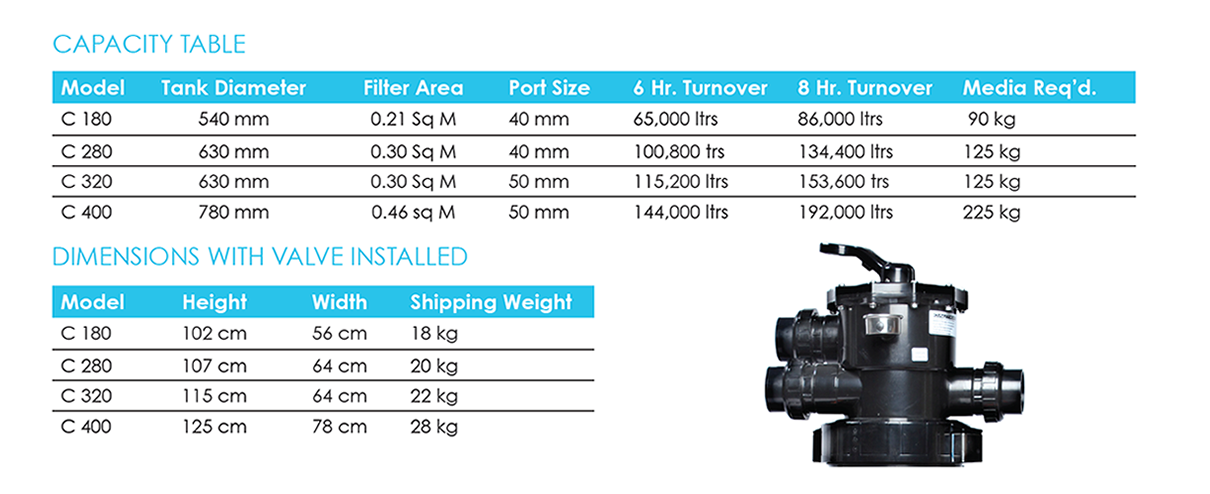 Using a multiport valve to direct water flow and cut down on resistance, the Cantabric Sand Filter delivers crystal-clear pool water without using a lot of energy. The unique design uses tough steel for its tank and crushed glass and fine grains of sand as a filter medium. The result is a rugged, high-performance residential tank that can provide a long lifespan with minimal maintenance.
With that said, maintenance of this filter is easy. The design of the tank makes it simple to install and easy to access —whether you need to fix a broken part or replace the filter media.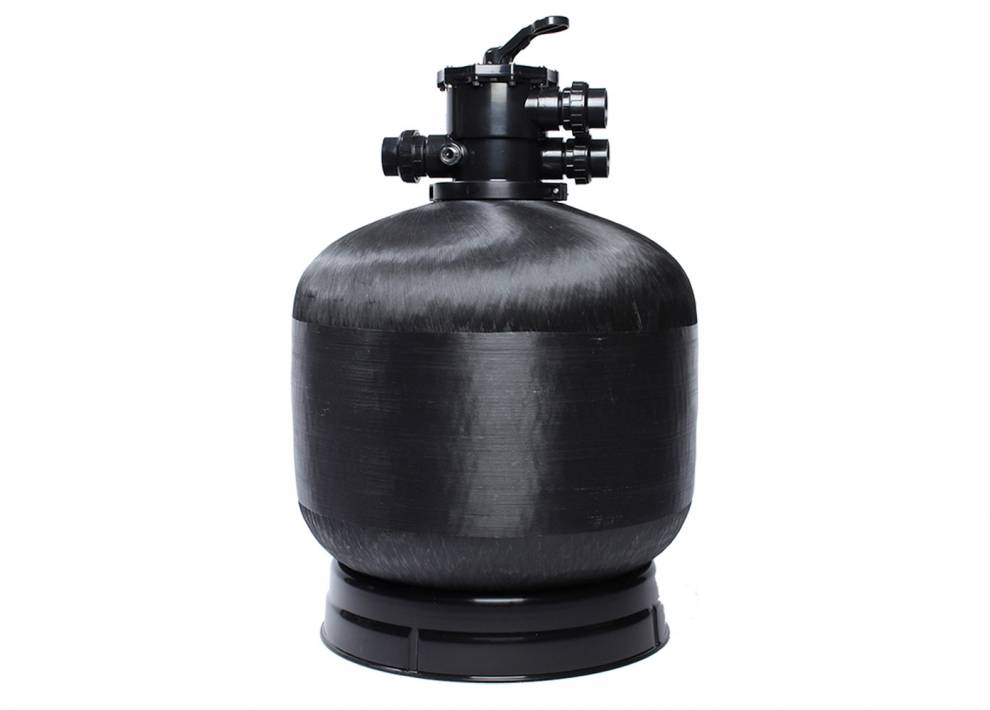 FG Series Filter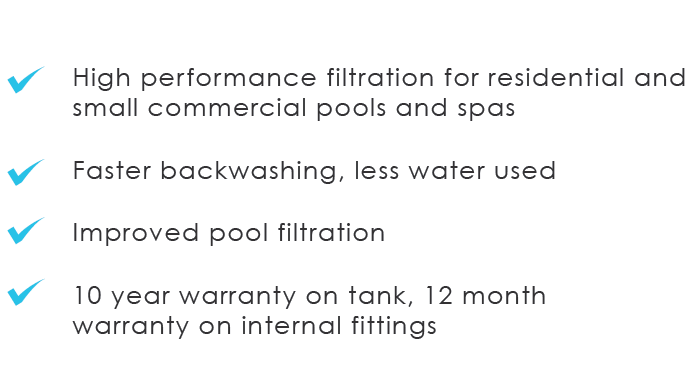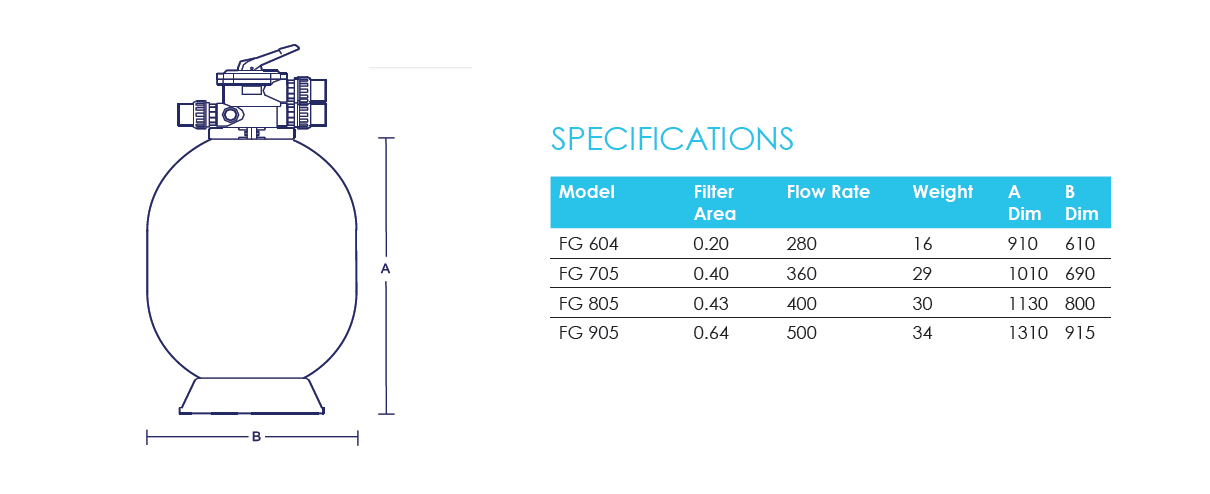 Like the Cantabric Sand Filter, filters from AstralPool's FG Series use sand and glass as their filter medium. They also incorporate the multi-port valve, which makes installation, inspection, cleaning and maintenance simple and quick.
Each FG Series filter also provides high levels of performance that make them ideal for all residential pools and some commercial spa applications. With substantial capacity and exceptional flow rates, FG Series filters can filter more water in less time than many other residential models. This faster filtration and backwashing means that the filter uses less water and costs less to operate.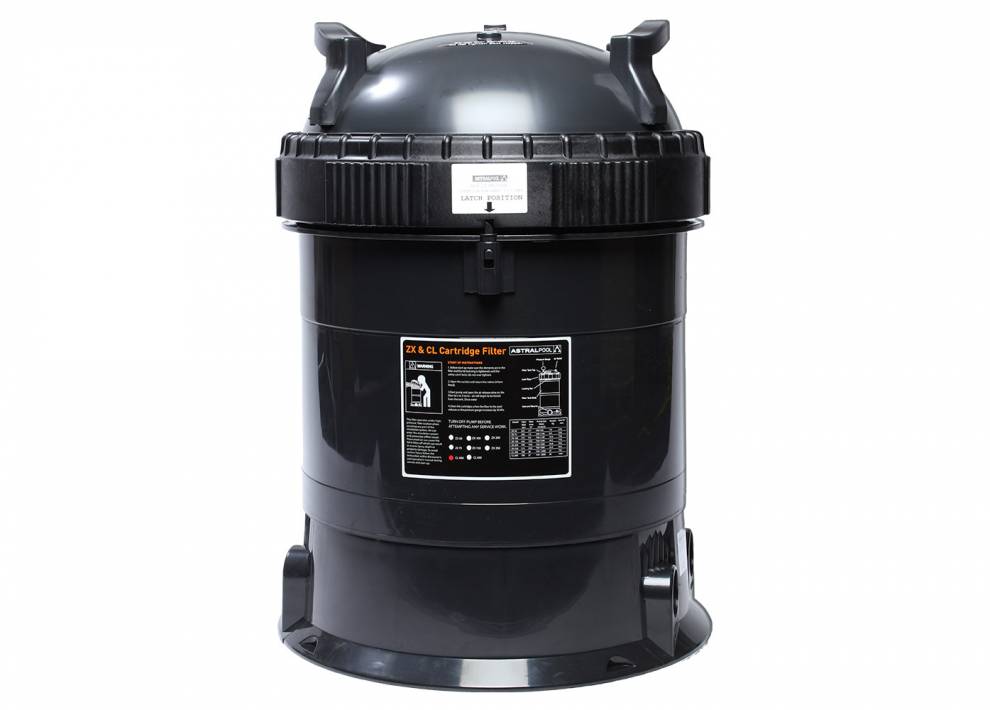 Viron Cartridge Filter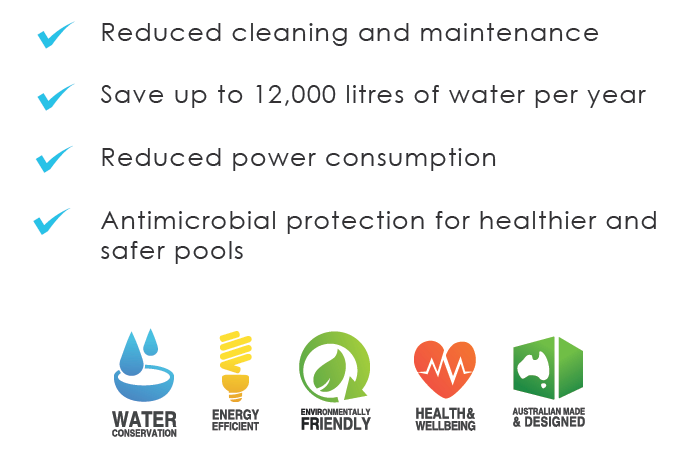 Viron built this cartridge filter to save pool owners between 8,000 and 20,000 litres of water annually, making the design both cost-effective and environmentally-friendly. Add a powerful antimicrobial design—which helps keep your pool pristine and clear of mould, mildew, bacteria and other unsafe or unsightly agents—this cartridge is easily one of the highest performance residential filters on the market.
Viron also designed this cartridge filter specifically for Australia's harsh conditions. Thus, users must only flush and clean the cartridge once per year. The reason for filter's limited maintenance needs is Viron's choice of filter media, which is finer than glass or sand. Where glass and sand filter media demands regular flushing, Viron's proprietary filtration media does not. (Viron's filter media also includes Microban, the antimicrobial protection agent that allows the filter to be much more effective.)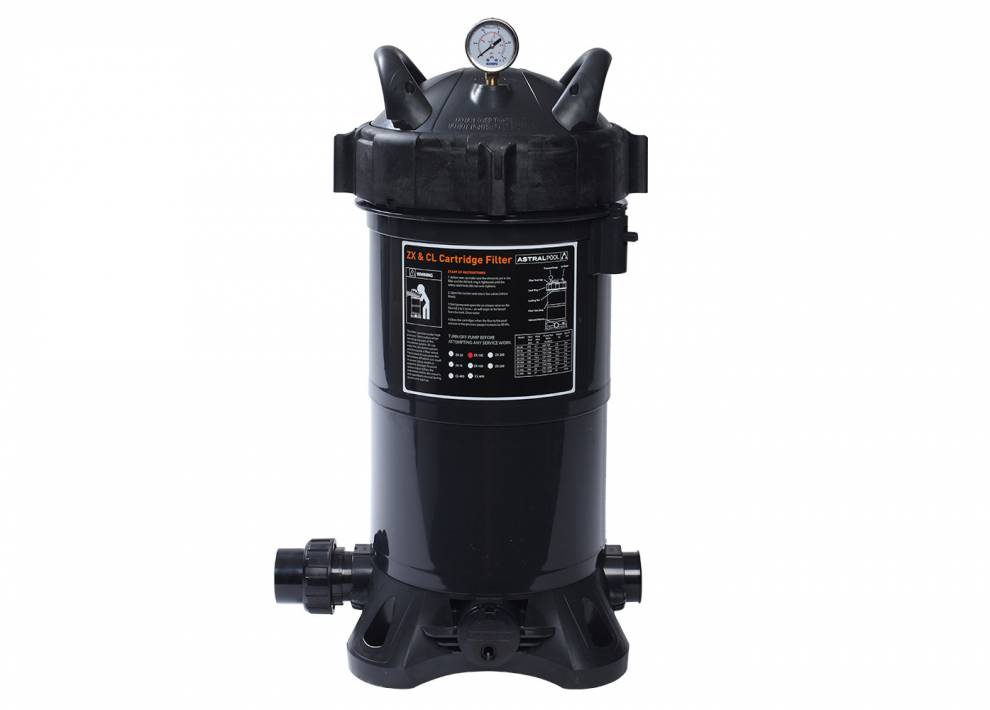 ZX CARTRIDGE FILTER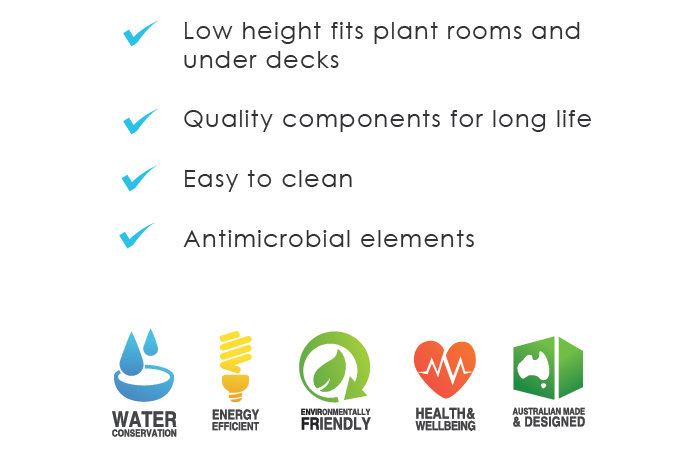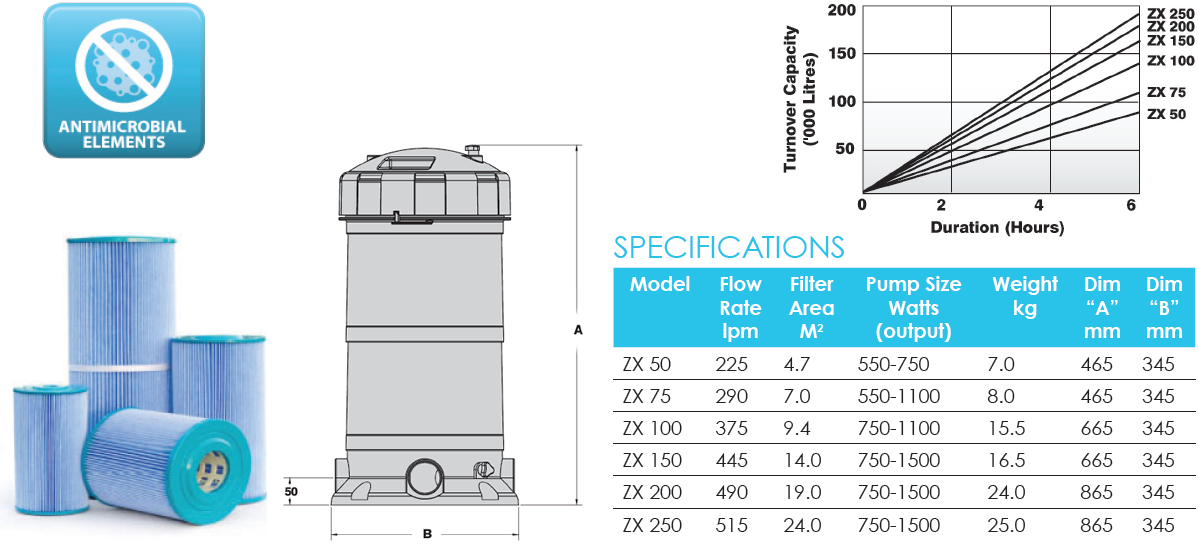 If your spa or swimming pool is required to comply with waste water disposal restrictions and regulations, then the ZX Cartridge Filter is the pool filter for you. With a compact design that is durable, easy to maintain, and wonderfully efficient, the ZX reduces backwashing and provides incredible antimicrobial benefits with limited use of water. Where most filters might backwash thousands of litres of water to clean a sand filter, filters in the ZX series can do the job with just 100 litres.
As a result, the ZX can help users save thousands upon thousands of litres of water each year. The environmentally friendly nature of the design doesn't compromise the filter's ability to keep water clean. On the contrary, with high-quality antimicrobial elements, the ZX is perfectly capable of cutting down on algae or bacterial growth and keeping your pool water safe.